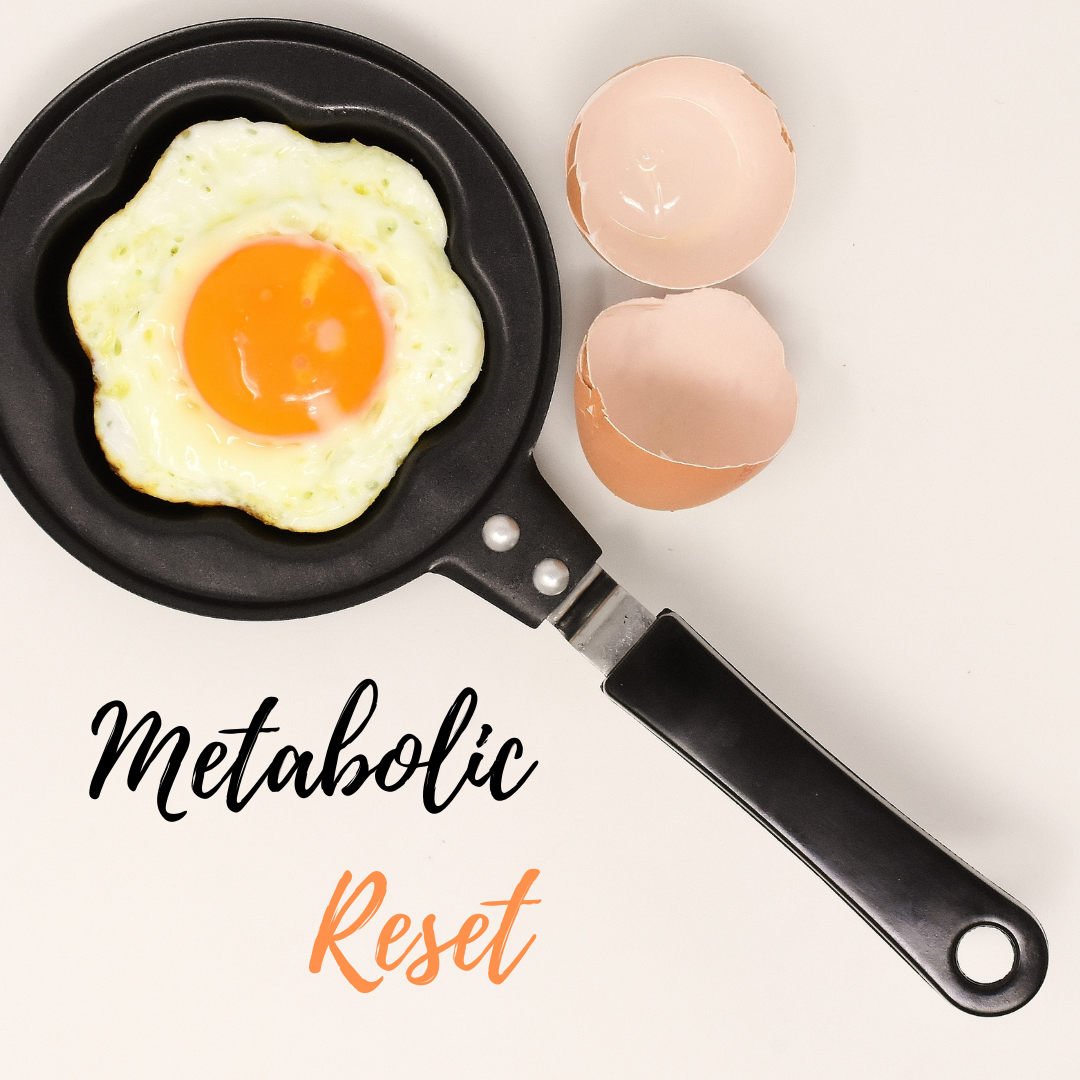 Metabolic Reset is the solution to your metabolic slowdown and fat loss resistance.


Speed Up the Metabolism and Restart Fat Loss
Your metabolism is likely slow because of months or years of under eating. This is causing your fat loss plateau. No worries -- this program will help you fix this, guaranteed.


Stop Under Eating
Stop being afraid of food and start nourishing your body with right foods.


Improve Body Composition
Get leaner and stronger, while eating more and repairing your metabolism, getting it ready for more fat loss later. 


Increase Your Energy
You're not supposed to be exhausted all the time. You start feeling better within first few weeks of this program.


Learn To Eat For Your Hormones
Your hormones are off balance as a result of low calorie eating. Learn the best foods to regulate your hormones and start losing body fat.


Find The Right Macros For You
The exact formulas that I use with my 1:1 clients, to determine their macro targets so that they can reset their metabolism while improving their body composition.


Work Out The Right Way
So that your exercise supports metabolic healing, instead of slowing it down further, which is what many cardio base workout programs do!


This Macro Based Approach Works


This program is based on macro nutrition -- tracking your fats, carbs and proteins, based on exact calculations I teach you in this program.


In 
Metabolic Reset
, you'll learn the exact tools that have helped hundreds of women to reset their metabolism so that they're now able to lose fat again.
You will learn how to calculate the right macros for you, how to adjust them, and how to monitor the process. 


This is literally the closest thing you can get to 1:1 coaching, but at a fraction of the price.


This is an 8-week program that you will go through at your own pace - start whenever you can!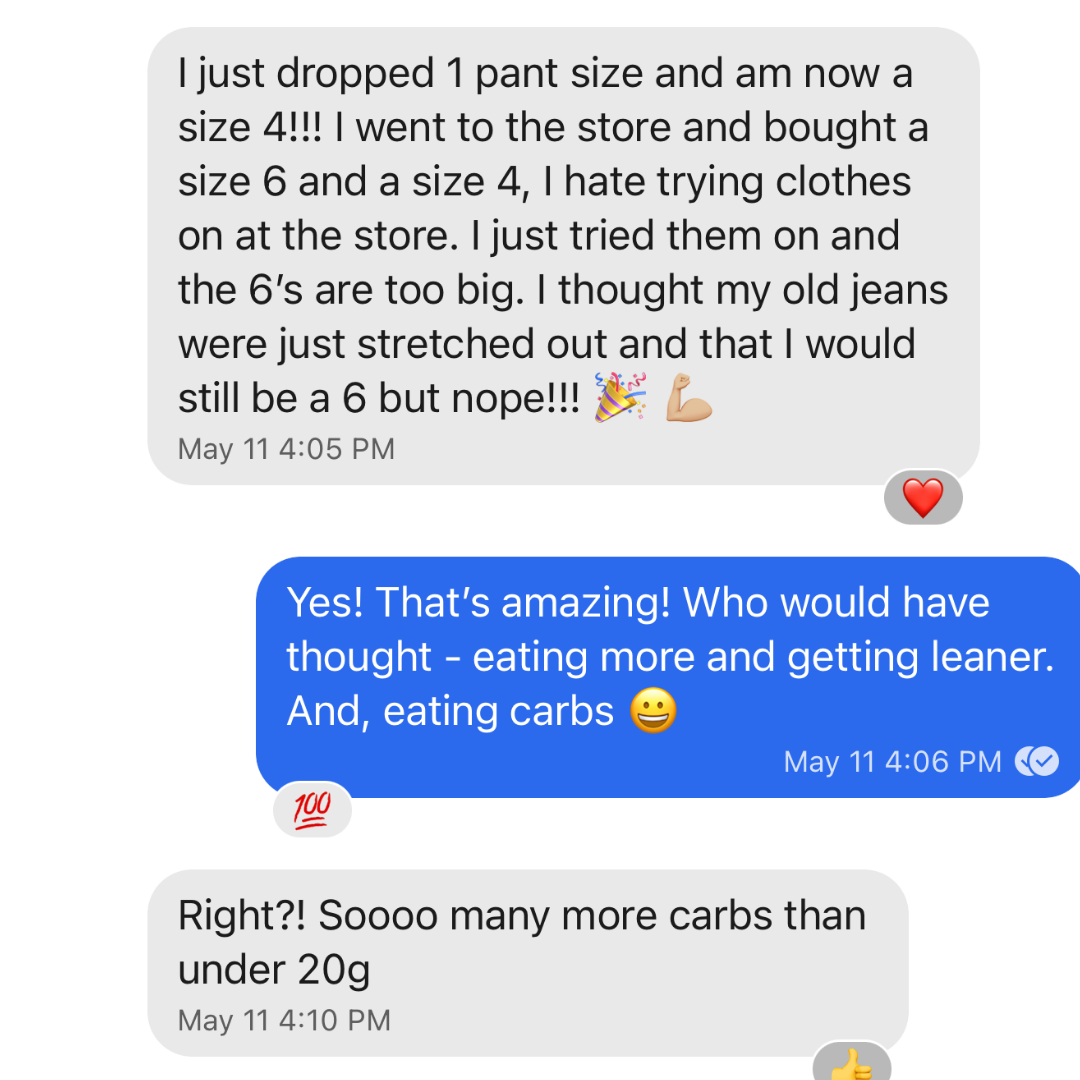 S is no longer restricting carbs, but she used to eat only 20 grams a day... and her jeans size has dropped.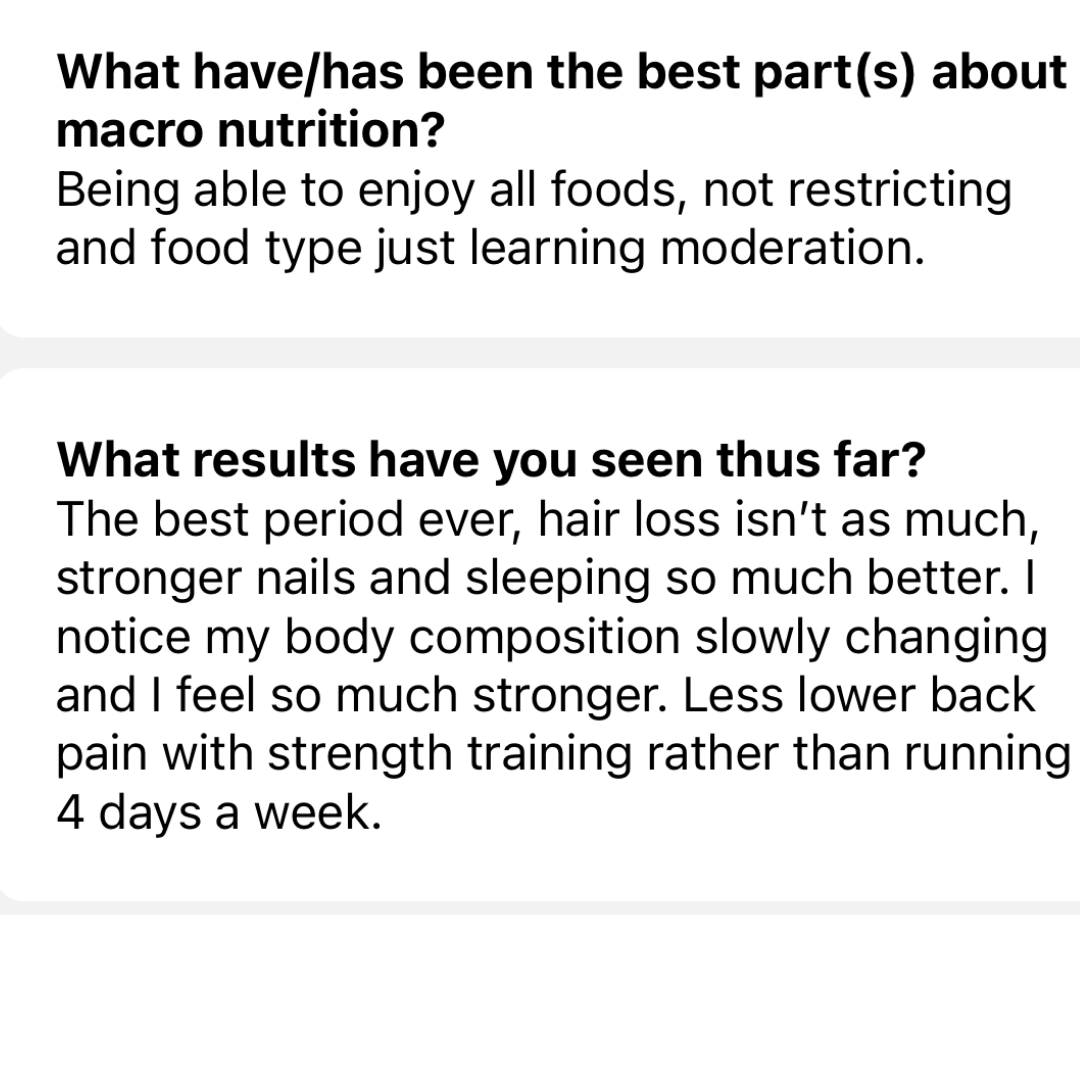 A's body composition is changing and she's a lot stronger because she's doing the right workouts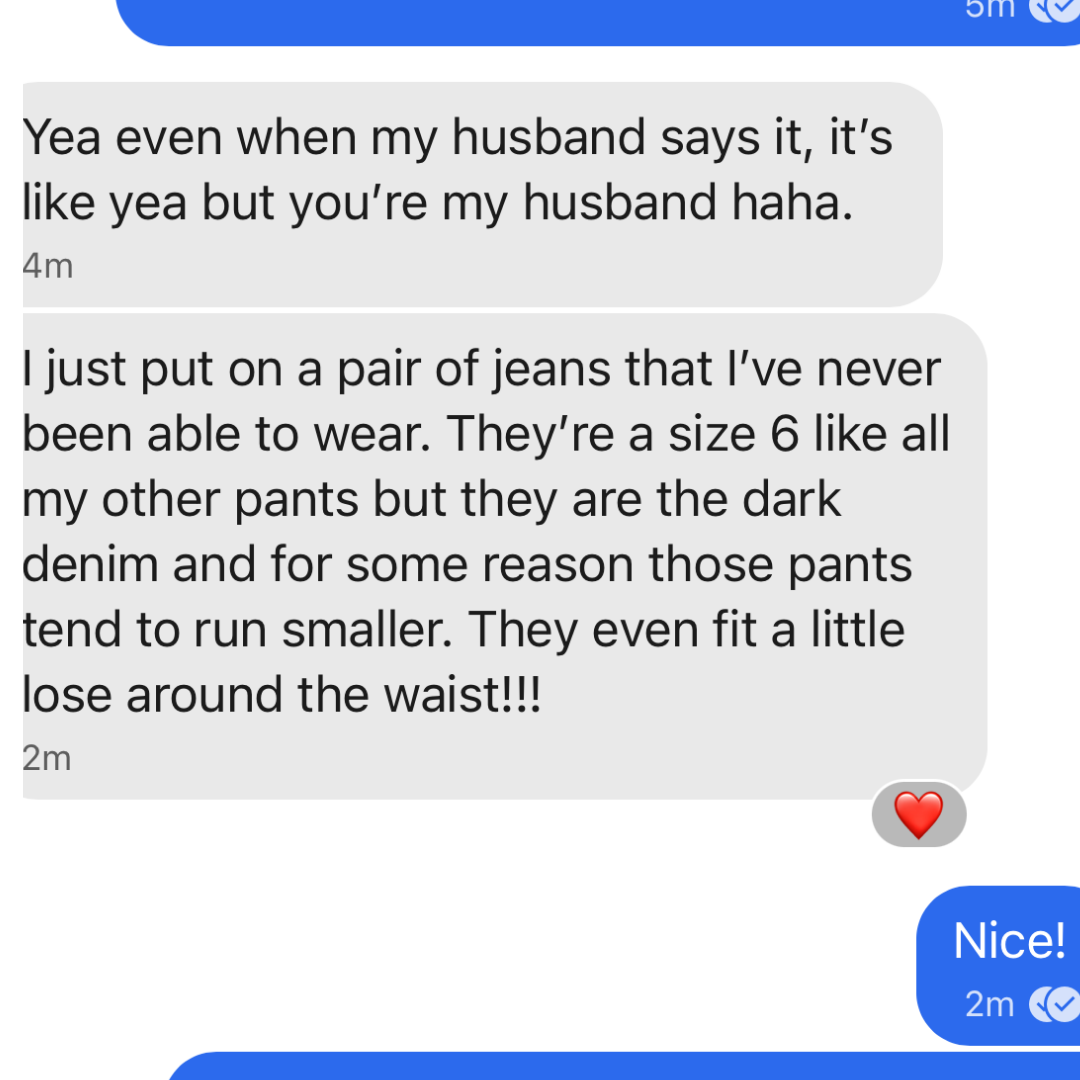 A is down a pant size and is able to wear the jeans that she never used to before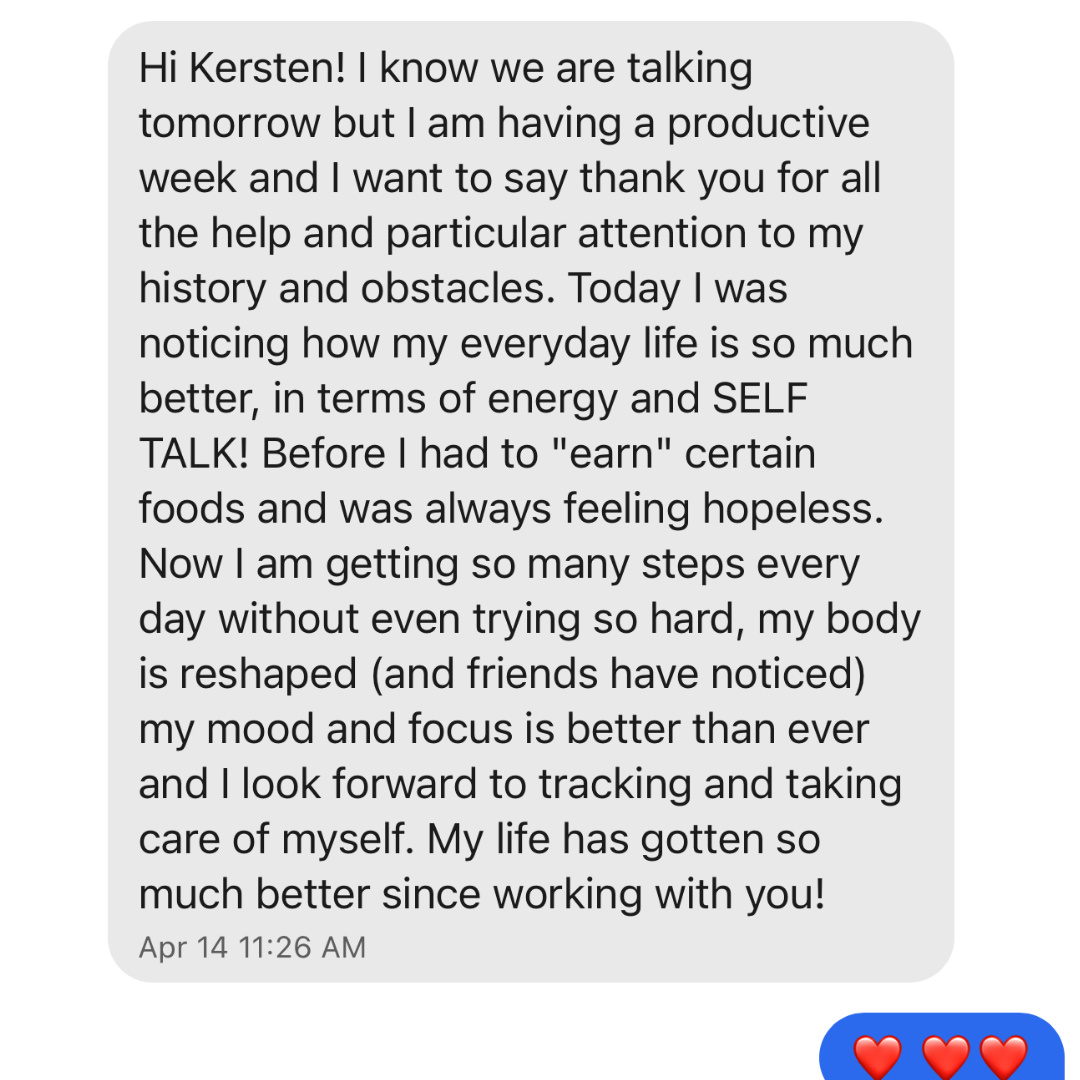 S doesn't need to "earn" calories anymore, and her body has reshaped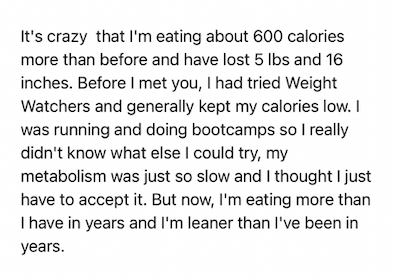 D is eating 600 calories more, has a faster metabolism and has been able to lose inches again
Did You Stop Getting Results? 
You could keep starving yourself...


You've already done this, and gotten no results.


You could try cutting carbs to zero, or eat just one veggie a day, or fast for 24 hours -- but none of these things will fix your metabolism.


You have to reset your metabolism after months or years of yo-yo dieting or low calorie eating.


Metabolic Reset is the solution you need. 


Because why keep doing what isn't working? You don't need another crash diet or more cardio. You already tried with no luck.


Sign up for Metabolic Reset program and learn how to speed up your metabolism, get your energy back, and set yourself up for a healthy fat loss.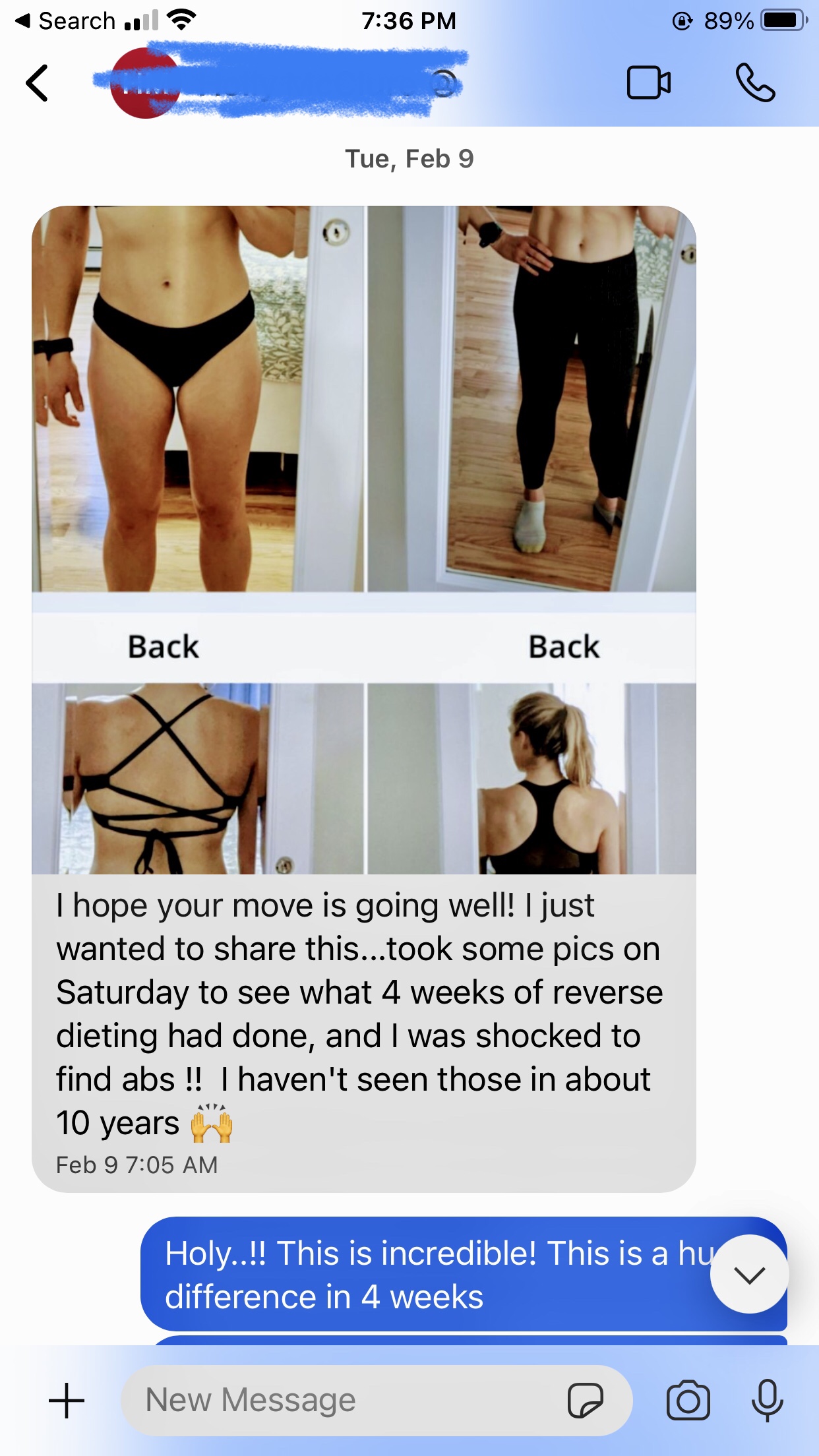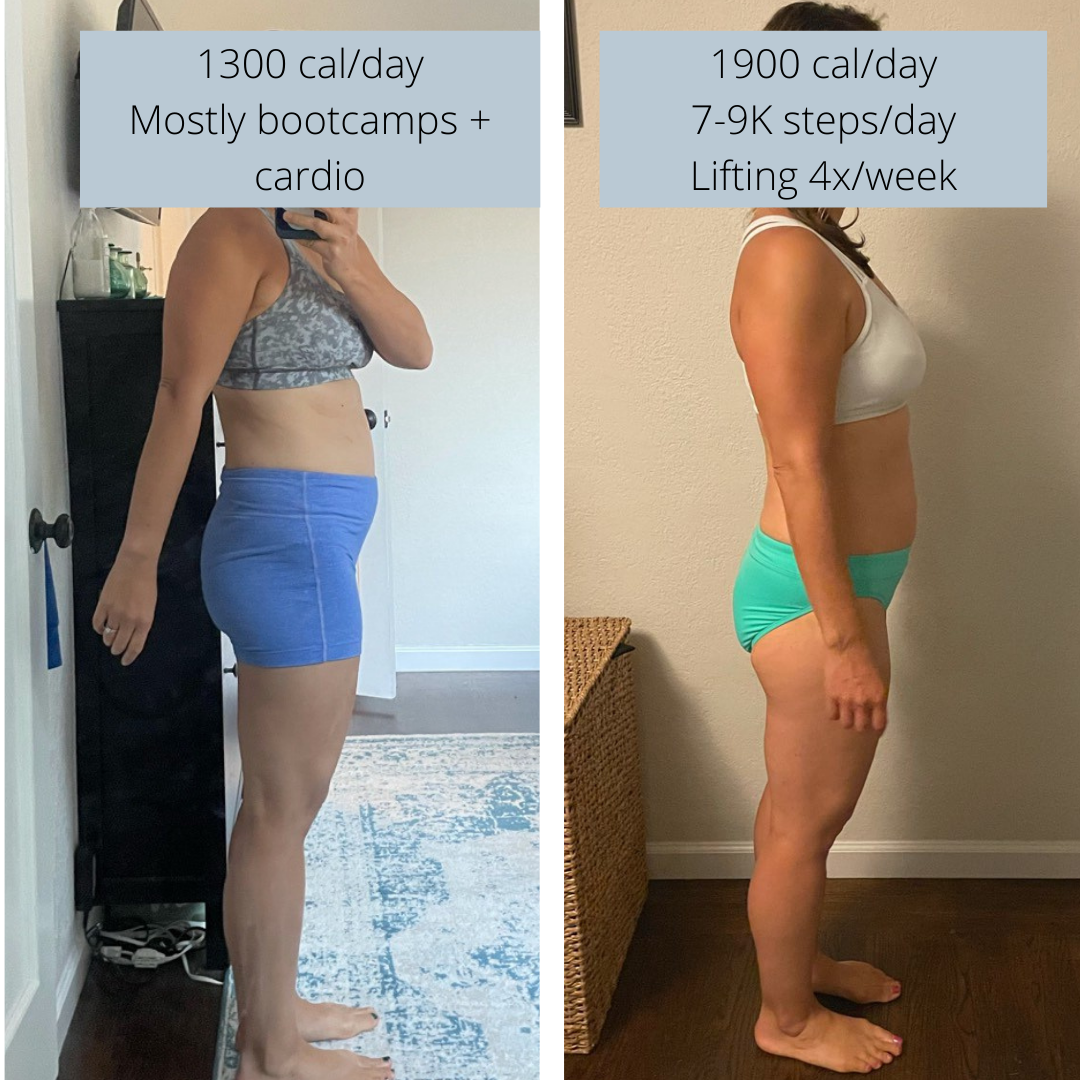 Based On Scientific Formulas
This course is based on macro nutrient tracking. This means, eating according to your fat, carb and protein needs, and und using a tracking app to track it.


If you have experience with macros, it's going to be helpful, but if not, you'll learn all the tools you need, in this program. 




I will teach you exactly how to calculate your macros (fats, carbs and proteins), how to adjust them to avoid big fluctuations, and how to know that your metabolism is healed. 
Who Is This Program For?


Metabolic Reset is for women who have been under eating (either yo-yo dieting or been in a caloric deficit for over 3 months) and have stopped seeing fat loss results. 


Does the following describe you?


No matter what you try, it's not working.


Cutting calories doesn't help.


Increasing cardio doesn't help.


You've tried both, and still stuck in a plateau.


You need to reset your hormones, repair your metabolism, and reverse your diet.


Only then can you start losing fat again. As long as you're trying to work with an unresponsive metabolism -- it won't happen.


I guarantee that if you follow the exact steps in this program, your metabolism will be restored, and you'll be ready for successful fat loss. Many people start losing fat already during the process.
What You Need
My Fitness Pal or other calorie and macro tracking app


Food scale


Readiness to dive into some math to do your own macro calculations and adjustments


Patience because this is not a quick fix plan!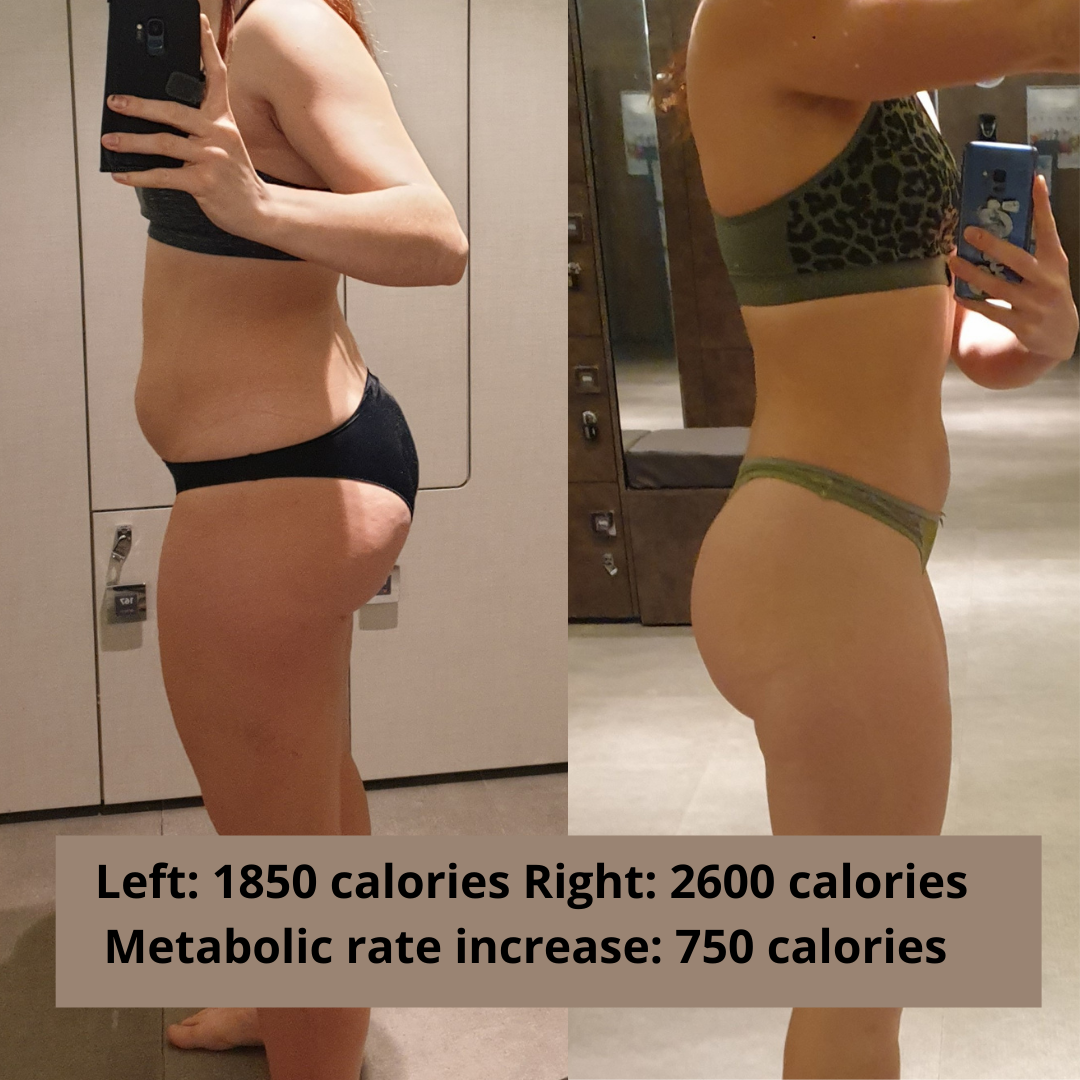 Where Do You Want To Be 3-6 Months From Today?
You could try to cut your calories lower one more time.


You could add another workout to your already packed schedule.


You could try Keto one more time...


But none of these things will give you results, and you've seen it.


That's because your metabolism has slowed down as a result of doing too many diets or under eating for way too long.


There's only one way to speed your metabolism up in a healthy way without excessive weight gain. I will teach you exactly how!


Note though that I don't guarantee weight loss in this program. Some people do lose weight, but weight loss is not the main goal -- the goal is to heal your body first so that you can later lose fat successfully because you will then have a way healthier metabolism.


So, it's your choice -- do you really want to be stuck for another three months, half a year, a year...


Or are you ready to heal your metabolism and set it up for successful fat loss?